Sunday Nov. 1 @ 4 PM – Rock for RIBBIT! A Benefit for SAVE THE FROGS!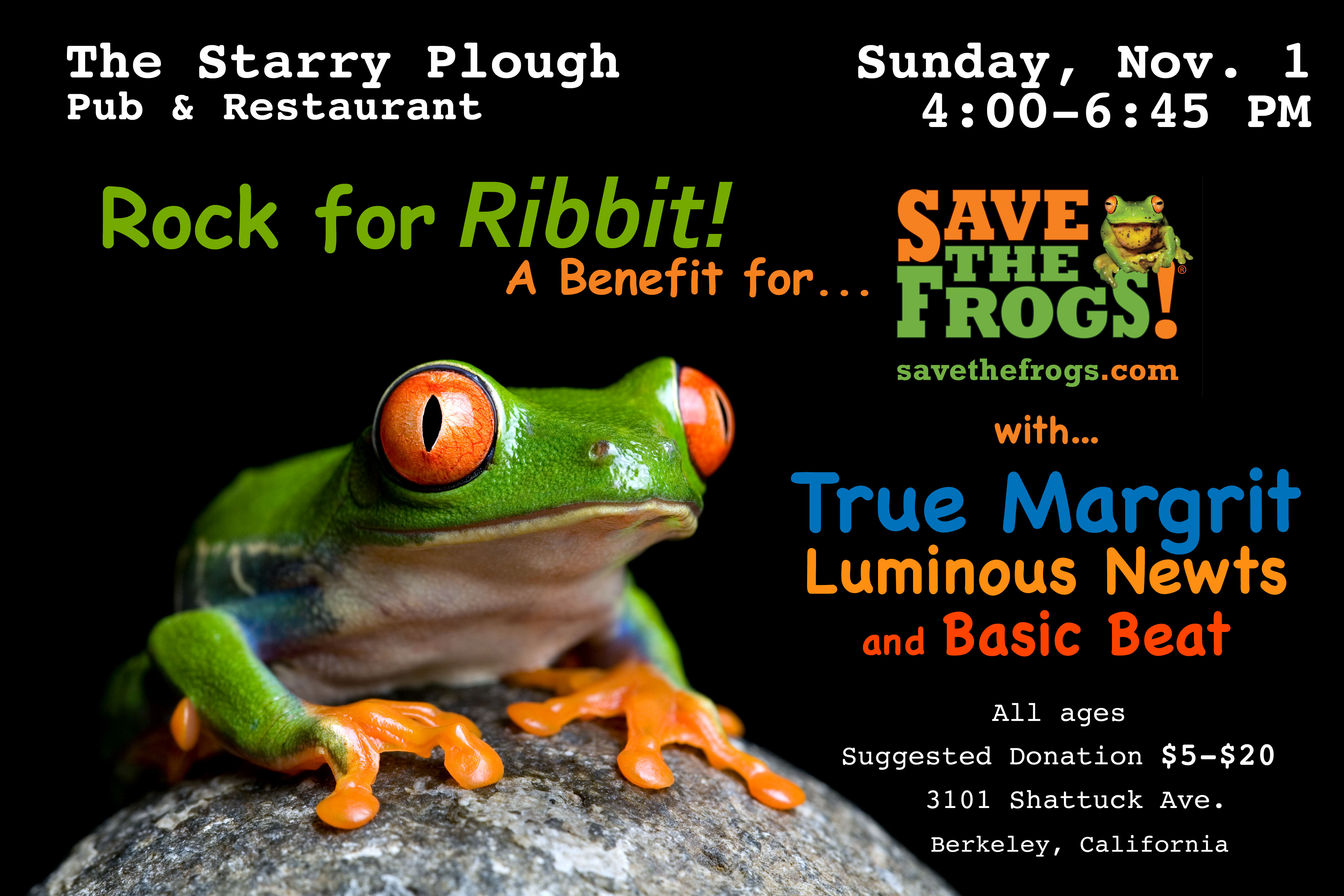 Have some fun the day after Halloween – and give some love to the most endangered animals on the planet!
SAVE THE FROGS! is the world's leading amphibian conservation group.
This may be our last gig of 2015, since we'll be focusing on recording in November and December.
When: Sunday, Nov. 1, 4:00-6:45 PM     ("FALL BACK" ALERT: Remember to set your clock back!)
Where: The Starry Plough Pub & Restaurant, 3101 Shattuck Ave., a few blocks east of Ashby BART.  Info Line: 510.841.2082
Who: You! All ages.
Bands: Basic Beat will open, followed by yours truly LUMINOUS NEWTS and finishing with True Margrit.
Come hear our new original song about newts and Berkeley, called When the Newts Cross South Park Drive! Very fun & unique. Very newts.
We're excited to be sharing a stage with San Francisco-based trio True Margrit, who offer up a singular brand of hummably wistful angst and whimsy set to "infectious beat-heavy piano licks." (Laurie Koh, San Francisco Bay Guardian). True Margrit's album, The Juggler's Progress, has been praised as "Breath-taking!" (Whatzup Magazine). http://truemargrit.com
It's also our pleasure to be joined by our friends Basic Beat, a Berkeley-based quintet whose danceable, bluesy originals and covers have earned appreciation in venues throughout the Bay Area. These guys lay down a very authoritative groove and swoop you along. Good stuff. www.youtube.com/basicbeatmusic
FREE / Suggested donation: $5-20
Visit the Facebook Event